DRT Varial handle 140-150mm
The 140-150mm Varial handle uses A Shimano or Diawa/Abu/Shimano 140mm-150mm nut. No Other Varial nut is compatible with this Varial handle.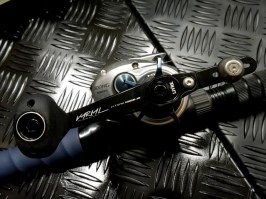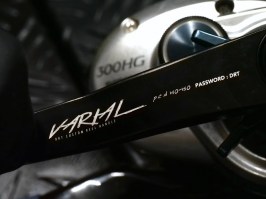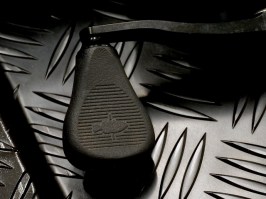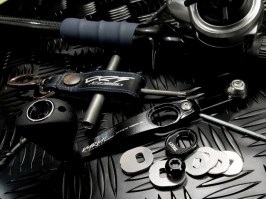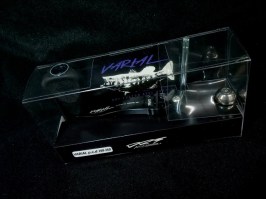 Description
DRT Varial 140mm-150mm is a single power handle for GIANT swim baits. Knob is single flat DRT X WCZ knob. You may change the radius of the handle by changing the direction of the center components from 70mm to75mm (diameters from 140mm to 150mm) to suite the best for your heavy swim baits. Counter balancer is removable and adjustable for distance to match. For Shimano 300/400 models, please choose 8mm models (Daiwa/Abu) nut. Comes with washers and the wrench for the center nut. The wrench cover with DRT logo on the photo is not included. Existing DRT Varial nuts don't fit so you will need to purchase the special 140mm-150mm nuts here. https://drtusafishing.com/division-rebel-tackles-usa-products/varial-handles-hardware/drt-varial-nut-140-150mm-detail.html
Directions for the 140-150mm Varial are as follows:
!!!PLEASE READ BEFORE INSTALLATION!!! Use together with Japanese instructions provided.
140-150 DRT Varial handle Instructions
Parts included.
1 each T torx wrench
1 each 2.5mm hex wrench
2 each oval washers
2 each Shimano SUS washer
3 each Daiwa SUS washer
*** Add SUS washers between oval washer and star drag when it's making contact with the handle or if the handle has play.
Installation.
1. Secure the star drag and the reel foot with a rubber band to prevent star drag from popping out of place shown in figure #1
2. Remove the stock handle and install the oval washer shown in figure #2
3. Place the parts in order. Varial plate, then center nut. Hand tighten the nut before using the T-torx wrench! Make sure the nut is on the thread straight shown in figure #3
***Right center nut turn clockwise, Left center nut is counter clockwise.
*** You may choose 2 different pitch sizes from 140mm and 150mm by turning the oval washer and Varial plate 180 degrees.
*** You may also remove the counter balance with the 2.5mm hex wrench provided.
!!Regarding installation, use and maintenance.
*Please install the Varial handle and parts yourself.
*There may be slight color variances between parts due to separate manufacturing lots.
*Please remove Varial handle and parts before sending in for reel repair.
!!!ATTENTION!!!
*Do not use this product for anything besides fishing.
*Center nut has very fine threads and can easily be damaged when installed improperly.
*Bearings are treated with corrosion protection, however that will NOT guarantee rust or corrosion so we highly recommend to keep up maintenance on a regular basis.
*Please retighten the nut or bolt every once in a while.
Reviews
There are yet no reviews for this product.